25 Apr

Meet Walt Buehler

Walt has graciously volounteered to lead referee development for PA.  Officiating is an important aspect of our game.  If you are keen to find out how you might be able to get involved contact Walt at RefereeDevelopment@pickleballalberta.org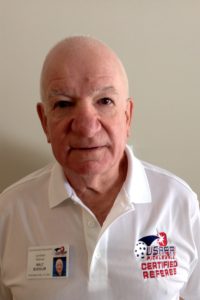 I started playing pickleball in 2014 and refereed at our member tournament for Parkland Pickleheads that year.  I really enjoy officiating – and did so for basketball and softball until my work and family life took over! Pickelball has become an obsession for me so naturally this PA referee development opportunity attracted me.
Over the past few years I have refereed over 300 matches in Canada and the United states and became a USAPA certified referee in February 2018.  In Canada, I have refereed at tournaments in Sherwood Park, Spruce Grove, Red Deer.  In United states I have refereed at the USAPA Nationals in 2015, 2016 and 2017, as well as, several places in Arizona.  I've run referee clinics for Parkland Pickleheads the last two years and recently for the Central Lions Club in Edmonton.
I really like the tournament atmosphere but not the competitiveness of playing. By refereeing I can be part of it and enjoy the camaraderie with other referees.
I am keen to be involved in referee training because I see a lot of referees not doing what the IPF expects of Referees on court conduct and procedures (Best Practices). By training using the Official Referee Handbook, I hope to see a high standard and consistency with our referees in Alberta and Canada.